There are so many types of applications with different types of extensions, Java applications are known to work on Java phones (S40 or S60) with the

.jar

and

.jad

extension while Symbian applications use the

.sis

and

.sisx

extension, listed below is various applications and their extension.
| | | |
| --- | --- | --- |
| | | |
| | | Nokia 2700, Nokia C2-00, Samsung B3210, LG 535 |
| | | Nokia 5800, Nokia N95, Sendo X2, Samsung SGH-D720 |
| | | AnexTek SP230, hTC Touch Pro2, Samsung B7330 Pro |
| | | Samsung Galaxy Nexus, hTC Hero, hTC Incredible & Ace |
According to the list above, Windows Mobile Phones are mainly designed to install the

.cab

applications but due to the sleepless nights of our Application and Software developers, they've designed so many Java-Enabled windows mobile applications which enable Pocket PC to download and install Java applications. One of this Java Application is Midlet Manager…
Java Installation procedures
2.
After downloading and installing Midlet Manager, Open it and click on 'menu' …
3.
Now click on 'install' and choose 'browse' (then your phone's default browser will open)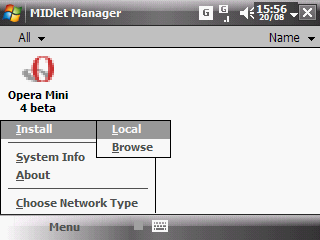 4.
Now type in the URL address of the java application you want to download…
5.
Once the download is complete, Midlet Manager will install the Java application and you will be notified if the installation is successful…
To open the java applications that you have installed, Open 'Midlet Manager' on your phone and you will see all the java apps, then run them and enjoy!!! Hope this helps, kindly share this interesting post with your friends using the share button above… Thanks for reading